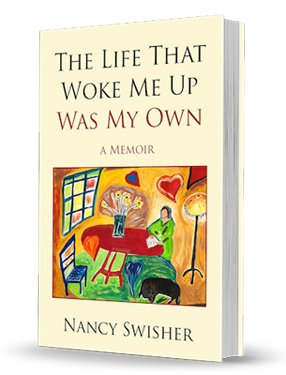 Author of 
The Life That Woke Me Up Was My Own
"When I write, I am required to sit here, many times uncertain where to go next. Not that I don't know the story. I do. But the context for the story has to do not only with the time-space dimension I live in, but with the eternal part of my Being also. With what I call the horizontal axis and the vertical axis."
-from The Life That Woke Me Up Was My Own
Nancy's Signature Program
This transformational program serves women who are ready to shed their past conditioning and manifest their genius. In a powerful 1:1 format, your transformation is astounding and joyous.
Where Community, Healing and Spirituality
come together to support each woman on her Find Your Voice Journey. Our membership offers a library of teaching and monthly Masterclasses.
Come meet other women and take part in Nancy's 'Lives', Coffee Chats, mini-trainings, and ask questions about your own journey of finding your voice.
So this has been a pet peeve of mine for a very long time: How a celebrity culture actually silences the voices of the many. We are trained to look outside ourselves, listen to the latest podcast, the latest celebrity author or teacher.  I'm am not saying others...
read more