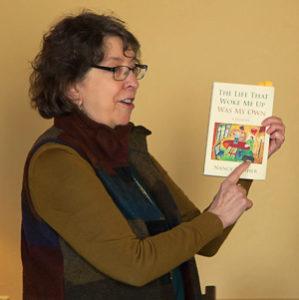 In just 5 weeks I will be back in Oxfordshire to lead the Find Your Voice and Stand Behind It Spiritual Retreat for Women.  Can't wait!
 
So I've been contemplating what it means to Stand Behind Your Voice as a woman and would like to share some of my thoughts because this IS the hardest part of living your authentic life and it is where so many of you stop, which actually makes me a bit sad.
 
First, a definition of Voice: 
Your Voice is the expression of your Inner Being or your deepest Self
Your Voice is that point where the nonphysical Being that you are expresses itself in this time-space dimension of our human experience
Your Voice is the voice of the feminine that rises up from the silences of your own personal life but also from the silences imposed by thousands of years of intentional silencing. 
 
And now the Stand Behind It part:
 
Let's say you have discovered your voice, that you have kept a journal, meditated, felt the depth of your Being and have a burning desire to bring forth this knowing, wisdom, and contribution to the world.
 
Yet, you keep this to yourself.  You don't know anyone in your life who will 'get it'.
You begin to create something that feels powerful and real but then you stop, get distracted by some other aspect of your life, one that involves giving to others and forgetting about your deepest Self expression.
 
You distract yourself with old habits of busyness.  You listen to those voices of self-doubt, self-judgment ("Your work isn't important!"  "Don't be so selfish!")
 
All of these things that arise—and they do no matter who you are and no matter how evolved and conscious you are—you can call these things "Trouble at the border."
 
Yes, when you go to manifest your wisdom, your deepest Self—your feminine power in the world, there will always be trouble at the border.  The egoic structures of the conditioned mind will attempt to maintain the status quo.
 
Standing behind your Voice requires:
Being persistent!
Getting support for your gifts to emerge from the beautiful Soul that you are.
Understanding your egoic patterns and learning how to move beyond them.
Risking being visible!
  
In our retreat, which starts September 19, you will have the chance to immerse yourself in the Stillness of your Spirit, experience the safety and support of other women, and not just bring forth your Voice but Stand Behind It.
 
It's my great joy to offer this experience to you.  We have a couple places left.
 
CLICK HERE to read more and to register.